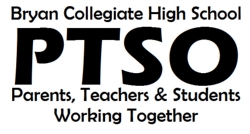 Welcome to the BCHS Parent Teacher Student Organization!
BCHS PTSO is a community of families and staff members who are associated with Bryan Collegiate High School. Our purpose is to strengthen, enhance and encourage the educational and social environment of Bryan Collegiate High School (BCHS) by complimenting BCHS with additional opportunities for parents, teachers and students to learn, socialize, communicate and grow. Our membership is open to all families and staff members who are associated with BCHS. No membership fees required.
Our Board is composed of PTSO members who are either elected or appointed to Board positions annually.
Please join us at our PTSO meetings on the second Monday** of each month at Bryan Collegiate High School, in the cafeteria at 6:00 pm.
The Zoom meeting ID is 974 6961 8949.
The passcode is BCHS
The full meeting invitation is below.
Please email back if you have any questions ahead of time. Otherwise, we look forward to seeing your face on Zoom on Monday.
Thank you.
Valeri Gibbs
BCHS PTSO
Gibbs, Valeri is inviting you to a scheduled Zoom meeting.

Topic: BCHS PTSO Jan. 2021 Meeting
Time: Jan 11, 2021 06:00 PM Central Time (US and Canada)

Join Zoom Meeting
https://tamu.zoom.us/j/97469618949?pwd=NGVUcGIrTUliSWhXVVR1R2VTZ2p2QT09

Meeting ID: 974 6961 8949
Passcode: BCHS
September 10, 2019

October 14, 2019

November 11, 2019

December 9, 2019

January 13, 2020

February 10, 2020

March 2, 2020 ** (except in March and that will be the first Monday of the month due to Spring Break)

April 13, 2020

May 11, 2020
Car Washes, Restaurant nights, and donations.
If you have questions about BCHS PTSO please contact either bryancollegiate.pto@gmail.com or one of the volunteers listed below:
Belinda Fikes - President - email: belinda.fikes@yahoo.com

Valeri Gibbs - Vice President - email: valerigibbs@yahoo.com

Cathy Collier - Treasurer Felicia Hall - Secretary

Cindy Davis - Fundraising Coordinator

Sandra Nunn - Teacher Appreciation Coordinator

Breeann Villarreal - Project Graduation Coordinator
You can also follow us on the BCHS PTSO Facebook Page.